Worldwide Energy & Manufacturing USA Co Ltd
---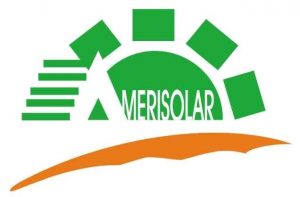 Worldwide Energy & Manufacturing USA Co Ltd
Worldwide Energy and Manufacturing USA Co., Ltd, is a professional solar module manufacturer with a 26-year experience in production and quality control since 1993. The company's brand, Amerisolar is an American brand relying on production facilities in China, Taiwan and the USA. Amerisolar is also a provider of technical services for solar power plant (on-grid and off-grid), including technical design, installation and maintenance, for customers all over the world. In 2018, the company had a production capacity of 1.20 GW.
Based on the technical cooperation with German and US Institutes, Amerisolar modules have been certified by ETL, TUV, KTL, JET, JPEC, MCS, CEC, CGC, CQC, ISO9001, ISO14001, OHSAS18001 and China "Golden Sun". Amerisolar modules have been widely used in USA, Germany, UK, France, Australia, Japan, Italy, Netherlands, Canada, South Korea, Greece, Taiwan, Malta and many other countries and regions.
Amerisolar has an advanced Testing Lab by working together German and US experts and engineers. Amerisolar technical services include technical design, installations and intelligent solar plant maintenance. The projects designed by Amerisolar technical team in many countries are generating solar power and protecting the global environment.
Amerisolar panels have been well established on the Maltese market, with the brand earning solid reputation amongst local professionals over a number of years.
Latest Amerisolar panels have excellent performance characteristics, backed by an incredible industry-leading power output warranty of 30 years. Virtue Solaris is among very few local importers which supply the latest-generation Amerisolar 280W polycrystalline and 300W monocrystalline solar panels on the local market at an absolutely UNMATCHED price.
Monocrystalline solar panels have been the go-to the choice for many years. They are among the oldest, most efficient and most dependable ways to produce electricity from the sun.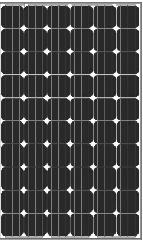 Monocrystalline solar panels have proven themselves durable and long-lasting. In fact, some of the early modules installed during the 1970's are still producing solar electricity until this day. A number of solar websites even suggest that monocrystalline solar panels can last up to 50 years with solar engineers backing it up by saying that it may only have a slight efficiency drop off of around 0.5%. Many monocrystalline solar panel manufacturers claim a lifespan of 25-30 years, but as long as the PV panel is maintained and kept-clean, it will still have the ability to produce power.
Each module is made from a single silicon crystal and it is recognized by their colour, which is typically black or iridescent blue. Amerisolar has developed many types of monocrystalline solar panels over the course of its 16 years and counting experience in the solar panel manufacturing industry.
Amerisolar's latest monocrystalline solar panels stocked by Virtue Solaris have the full certifications to guarantee quality and have been officially registered and approved by Malta's Regulator for Energy and Water Services.
Key Features
High module conversion efficiency up to 18.44% through advanced manufacturing PERC (Passivated Emitter Rear Contact) technology
Low degradation and excellent performance under high temperature and low light conditions
Robust aluminum frame ensures the modules to withstand wind loads up to 2400Pa and snow loads up to 5400Pa
Positive power tolerance of 0 ~ + 3 %
High ammonia and salt mist resistance
Potential induced degradation (PID) resistance
Quality Certificates
IEC61215,IEC61730, IEC62716, IEC61701, CE, ETL, JET, J-PEC, MCS, CEC, FSEC, CSI Eligible,
Israel Electric, Kemco, InMetro, TSE
ISO9001:2008: Quality management system
ISO14001:2004: Environmental management system
OHSAS18001:2007: Occupational health and safety management system
Special Warranties
12 year limited product warranty.
Limited power warranty: 12 years 91.2 % of the nominal power output, 30 years 80.6%
of the nominal power output
AS-6M30 (5BB) PERC Module Specification
Polycrystalline solar panels are made from similar silicon material hence instead of going through the slow and more expensive process of creating a single crystal, molten silicon is just put into a cast and cooled with a seed crystal. By using the casting method, the crystal surrounding the seed isn't uniform and branches into many, smaller crystals, thus the term "polycrystalline". The surface has a jumbled look with many variations of blue colour.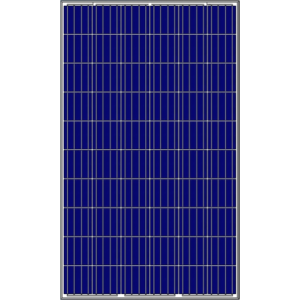 280W polycrystalline solar panels offered by Virtue Solaris provide a slightly more cost effective alternative to monocrystalline panels, with virtually the same power characteristics and durability.
These polycrystalline panels imported by Virtue Solaris have virtually the same technical characteristics as monocrystalline panels, with extremely high efficiency of up to 17.52% and the same amazing warranty terms, but due to differences in production technology these are offered to our clients at an absolutely UNMATCHED price which is even cheaper than for monocrystalline panels.
Check out the AS-6P30 Module Specification.