Portable off-grid solar generators
---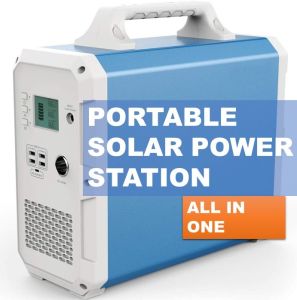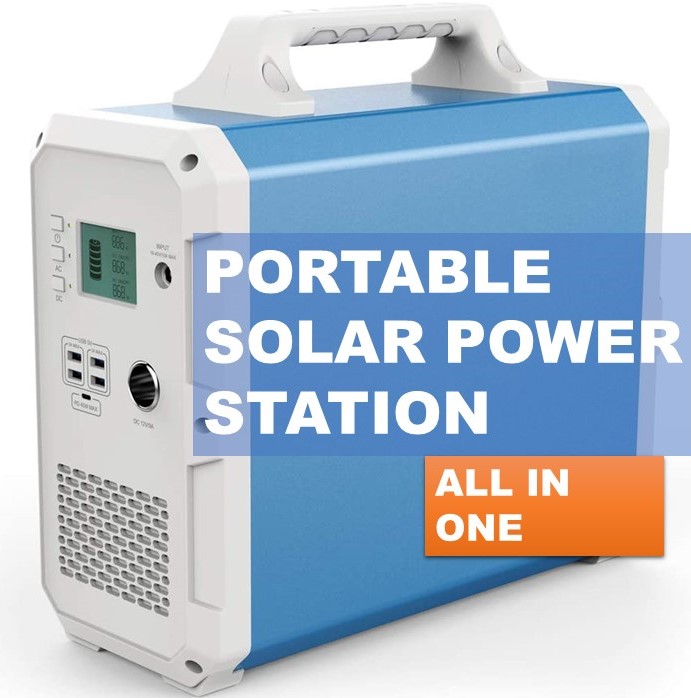 Whether you have a boat, a camper, a rural room or a summer retreat without connection to electrical grid, or any place where connection to the grid is unreliable, this unique portable off-grid solar generator will give you a solution for your off-grid power needs.
This all-in-one solar generator is powerful enough to energise most appliances, yet portable enough to take with you wherever you need it. This device is an ideal off-the-grid solution for boats, campers, caravans and similar applications, as well as a perfect back-up / emergency powerbank system for any home or office.
This high-capacity portable power station is equipped with 2400Wh of lithium battery storage, which is enough to power an average LCD TV for over 20 hours, recharge your laptop PC for 30+ times, or smartphone for over 200 times. It is enough to power an 800W drill for over 2 hours, a 300W fridge for over 6 hours, or a 10W LED light for over 200 hours.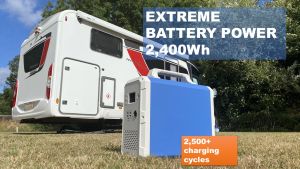 This portable power station is a clean and noiseless alternative to a petrol-powered inverter generator, and is powerful enough to produce 1000W of continuous AC power and a 1200W surge.
The station can be re-charged at any time in two ways: either by plugging in to a normal AC household socket, or by connecting to a solar panel via an inbuilt MPPT charge controller.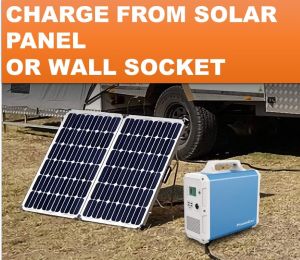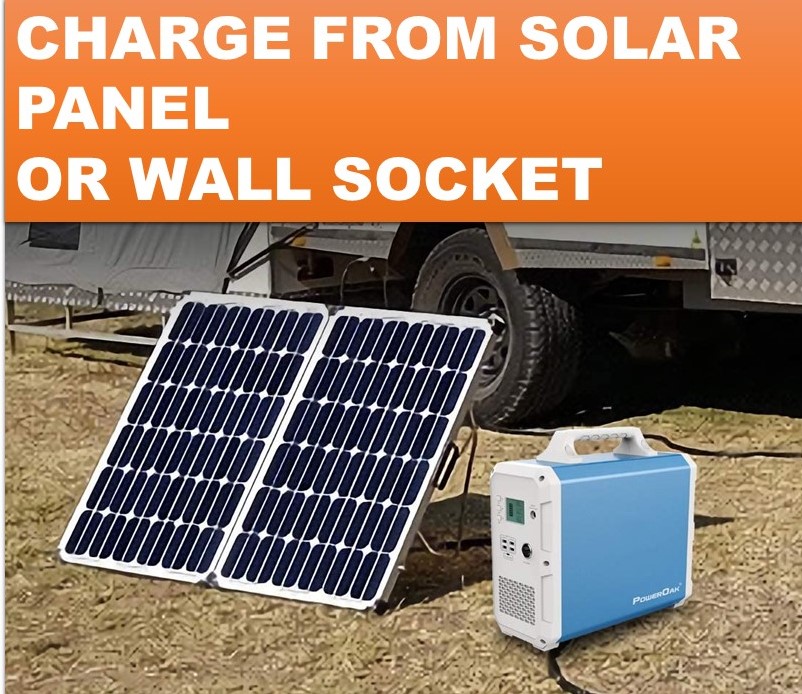 The station weights only 22 kg and can easily fit in a boot of even the smallest car.
This unique device is extremely safe to use. Its inbuilt battery storage module consists of highly reliable energy cells manufactured by LG, whilst a Battery Management System (BMS) enables short circuit protection, voltage control, temperature control advanced safety protection. A conveniently placed LCD screen displays battery status and a variety of other information.
The power station is equipped with a 200W charger for re-charging from a wall socket, as well as with PV input port (DC) for solar charging (open circuit voltage of solar panel must be in 16V-70V range, max current 10A). It takes about 12 hours to fully re-charge the station from a wall socket, or from a 300W solar panel, although exact time of solar charging depends on solar panel exposure to the sun.
It is also possible to re-charge the station by plugging it to a 12v DC car cigarette lighter socket via a 300W DC/AC inverter (not included in the package).
The station has the following outputs:
2 * AC230V ports
1 * 12V /9A DC port
1* 45W PD USB-C port (for laptop, drone, etc)
4 * 5V / 3A USB-A ports (for smartphones, cameras, etc)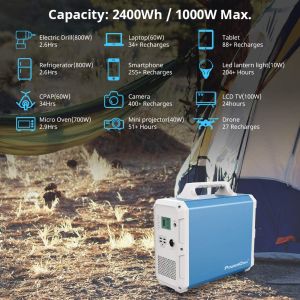 The in-built battery pack consists of LG Lithium Ion battery cells, with total storage capacity of 2,400 Wh and maximum continuous output of 1,000W. The battery is designed to withstand over 2,500 charging cycles – this is almost 7 years of daily charge-discharge use!
For best battery care, it needs to be fully charged at least ones every three months.
The power station is covered by a 24 months limited warranty.
Virtue Solaris offers this unique solar power generator together with a high efficiency solar panel and necessary accessories as follows:
1 * Portable solar generator with 2,400Wh battery storage and in-built MPPT solar charge controller
1 * 300Wp monocrystalline PERC solar panel (other types of solar panels are also available: 320W / 360W / 385W / 440W)
1 * 200W AC wall charger
1 PV solar charging cable converter from DC7909 To MC4
Up to 5m PV-1F 4mm2 solar cable + MC4 connectors
User Manual
Optional mounting fixtures for solar panel can be added to this package, depending on mounting requirements.
We have a special introductory offer price for this unique product package, which will surely re-energize your leisure. Contact us for a quote.