AE Solar – Premium German Quality Brand
---
AE Solar is a renown TIER 1 manufacturer of PREMIUM quality solar panels. The company was founded by Dr. Alexander Maier and his brothers in Königsbrunn, Germany in 2003. Today, AE Solar is one of the award-winning leading brands in the renewable energy industry, providing high-quality new renewable energy products and services since 2003.
AE Solar brand is distinguished by professional and experienced management, materials of the highest quality, rigorous manufacturing and testing standards and the latest advanced technology. Being an international company of global repute with branches and manufacturing facilities around the globe, AE Solar prides itself in delivering products of German Quality.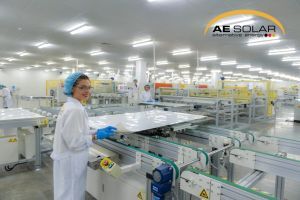 Automation helps AE Solar provide precise assembly, avoid defects, and lower down the costs by speeding processes to achieve proper price to quality ratio. All production lines are controlled by centralized software and each robot and machine detects and reports any malfunction online, so our engineers and operators can instantly react.
Manufacturing buildings are equipped with full temperature, humidity, and dust control equipment. Areas of storage, warehouses, offices, and other facilities are separated and isolated from the manufacturing room to get the best quality performance. Each assembly stage ends up with a quality check to make sure that internal defects like micro-cracks, black spots, mixed cells of different efficiency, processing defects, insufficient soldering, internal foreign materials, cell gaps, corner defects, breakages, scratches, ribbon misalignments will not be passed to the next stage.
AE Solar testing stations comply with AAA+ standards and label marking of output after final flash testing and sorting is done only at positive tolerance. All manufacturing facilities, production processes, and products have been revised, tested, certified, and approved by certification bodies to comply with the strictest international standards of quality, management system, safety, and industry standards to consistently provide products and services that meet customer and regulatory requirements.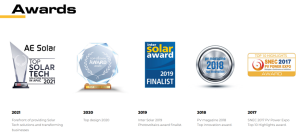 AE Solar has been awarded SNEC Top 10 Highlights SNEC Top 10 Highlights 2017, PV Magazine Top Innovation 2018, Intersolar Award 2019 Finalist, Construma Award 2020 Winner for Smart Shading Resistant Hot-Spot Free Modules Technology. AE Solar is the first company to manufacture conventional and double glass modules using poly, mono cells with this technology. It has been passed rigorous multistage testing by experts of Fraunhofer CSP institute. AE Solar guarantees the high-quality and best performance of photovoltaic modules using only superior raw materials and components from reputable suppliers.
Virtue Solaris offers the latest range of AE Solar panels for residential and commercial solar installations.

AE Solar Thunder (AE 400SMB-66F) solar module delivers the highest efficiency of 21.3%, which is unmatched for a solar module of its size. Thanks to its advanced shingle cell layout technology, at only 1.64m in length, Thunder solar panel is amongst the most powerful panels of this size available on the market today. Packing up a formidable 400W of power, Thunder is the most practical solution for most residential PV installations where roof space available for solar panels can be limited.

Thunder solar panels are small in size, extremely powerful and pleasant in appearance. Essentially, Thunder solar panels offer THE BEST ratio of power to size amongst all existing PV modules, at an affordable price, and with uncompromising QUALITY of a German family-owned brand.

Thunder solar panels are covered by world class 30 years power performance warranty and 12 years product guarantee.

Download technical specifications of Thunder solar modules here.

AE Solar AE 550MD-144 solar panels deliver 550W of power. These solar panels utilize the latest monocrystalline half cell multi bus bar and PERC technologies, to achieve efficiency of 21.3%, which is amongst the highest for commercially available PV modules on the market today. These panels are constructed using PREMIUM A+++ grade monocrystalline silicon cells in the latest 182mm format. Thanks to the latest large format cells and extremely high efficiency of 21.3%, the power output of these solar panels allows construction of PV arrays with fewer PV modules to achieve the same power performance as larger arrays with less powerful and less efficient solar panels. This leads to cost savings, greater reliability of the PV array, and less space needed for mounting.

This makes these panels suitable for both residential and commercial PV installations.

These solar panels are covered by world class 30 years power performance warranty and 12 years product guarantee.

Download technical specifications of AE Solar 550MD-144 solar modules here.