Huawei – No 1 Solar PV Inverter Brand
---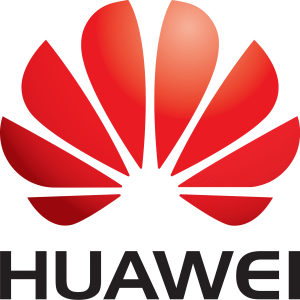 Huawei is by far the largest solar inverter manufacturer in the world. The company employs over 180,000 employees (which coincidentally is more than Malta's entire workforce!) in 170 countries, including a staggering 80,000 highly qualified professionals in research and development. With over $90 billion in yearly revenue Huawei is one of the top ten largest investors in the world.
Following the company's decades of experience in large scale commercial and utility solar energy sector, Huawei literally stormed the global inverter market with a smart, efficient, lightweight inverter that offers and at times surpasses virtually all the features the leading manufacturers offer.
Virtue Solaris offers its customers Huawei's latest smart PV Fusion Solar range of products comprising an amazing SUN2000L  and SUN2000-L1 hybrid inverter range, state-of-the-art solar optimizers and Smart PV Safety Box.
Huawei's SUN2000-2-6KTL-L1 range of inverters incorporate latest impressive technology, allowing these inverters to function as basic string inverters or together with SUN2000P optimizers for either partial and full optimisation. What's more, these inverters are 'battery ready' hybrid inverters, smart looking, extremely compact, efficient (98%), weather rated (IP65) and come with fantastic warranty terms backed by well-established service centres strategically placed in all parts of the world.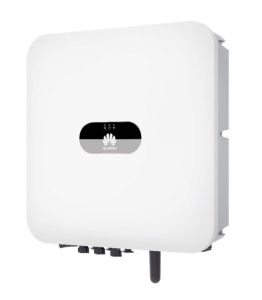 These residential hybrid inverters from Huawei give a power output range from 2 to 6kW output and all feature 'dual MPPT trackers' with a wide operating voltage range. In comparison with other leading inverter brands, the SUN2000L inverters allow very short strings of 4 panels along with the flexibility to function with or without optimisers.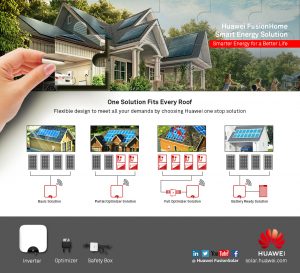 Complementing these amazing specifications is the compact lightweight design with natural convention cooling, without any fans or moving parts. The inverters are all weather rated (IP65) which is standard for string solar inverters but not as common for battery ready hybrid inverters. Setup and configuration is via Wifi which is becoming more common as screens can fail over time.
The SUN2000 series also feature an integrated DC isolator switch for additional protection and safety, allowing DC disconnect at any time.
One big stand out feature of the SUN2000 range is the ability to function as a standard stand-alone string inverter, with partial optimizers or with full panel optimisation. This is something no other inverter manufacture has managed to deliver and since our clients require flexibility when installing systems this gives Huawei a big advantage. Unlike other optimization systems, Huawei optimizers can be installed only on those solar panels that require them due to partial shade – thus saving on overall costs of the system.
Optimisers can be used without any additional components, however if module-level (i.e. at the level of each individual solar panel) monitoring is required, the optimisers can be installed with the smart PV safety box. This device works as a processing centre for Huawei SUN2000L range of inverters, which collects data from the optimisers and relays this onto the inverter, as well as an emergency safety disconnect device.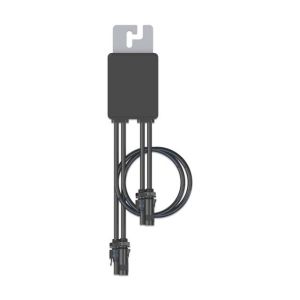 The Huawei SUN2000L inverters are also "future proof" since they have a built in battery interface which is compatible with the popular LG batteries and the brand new release of Huawei battery, effectively rendering the inverter a first-in-class true plug and play hybrid inverter with no additional combiner boxes required to function with the battery.
The Huawei laboratory and testing facility is recognised by leading international testing verification organisations including TUV, UL and FCC. They perform many extreme durability tests including thermal cycling, extreme humidity, salt-mist corrosion and even submerge the inverters underwater.
For three phase residential and small scale commercial PV systems, we offer Huawei's latest range of award-winning hybrid inverters SUN2000-3/10KTL-M1.